Live streaming is a useful resource for establishments like businesses, schools, and other academic institutions. Many professional broadcasters use online video players with the tools you need to stream with little technical understanding.
Although most of the live streaming process is automated by internet video players, a lot happens behind the scenes. To make transmissions possible, several different protocols and systems come together.
One such protocol that facilitates and eases low-cost live streaming is the Real Time Messaging Protocol (RTMP). This protocol's purpose has changed over time, but it is now largely used for RTMP intake, enabling users to utilize the many free or inexpensive live encoders available.
You can stream any content you want without limitations if you have a dedicated streaming server. Not even the occasional advertisements inserted into broadcasts on well-known platforms will show up on an RTMP server that belongs to you. The widespread use of live stream servers in gaming is not surprising.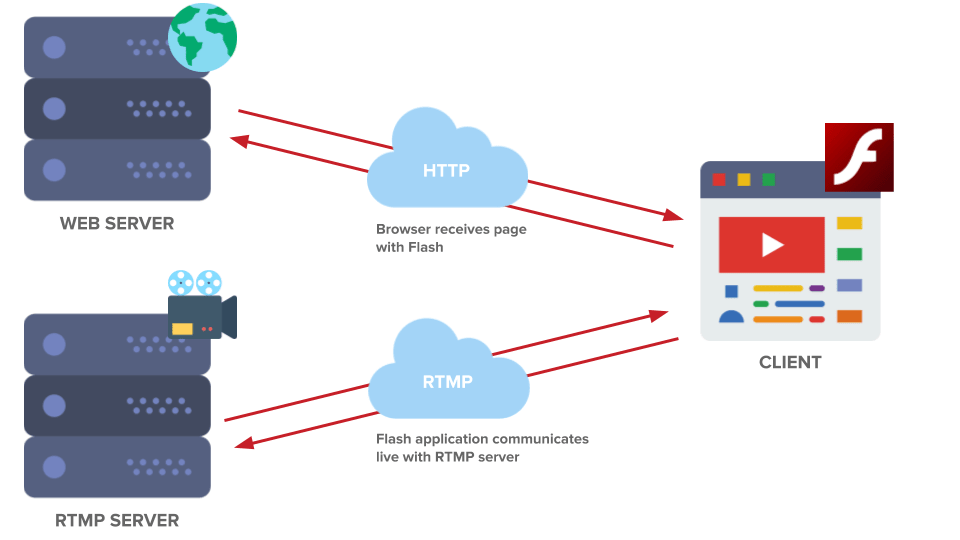 What are the benefits of the RTMP protocol?
Because of its low latency, flexibility, and simplicity in integrating various media, RTMP is a widely used protocol.
In conclusion, the main advantages of RTMP are:
Low latency

Flexible

Easy to integrate different media
Low Latency
Stable video connections are ensured via low latency. Fast streams with no lag are advantageous for viewers of live-streaming content like webinars.
Flexible
Due to the flexibility of the RTMP protocol, viewers can consume feeds in any order they like. RTMP feeds allow for skipping, rewinding, and joining after they have started instead of being required to be watched linearly.
Easy To Integrate
Users of RTMP can combine numerous media kinds into a single source. This indicates that combining text, audio, and video is feasible. Additional options for media channels are also possible. For instance, RTMP can broadcast audio streams in MP3 and AAC formats.
What are the primary difficulties with RTMP streaming?
RTMP is a useful protocol. However, it has drawbacks such as bandwidth problems, compatibility restrictions, and HTML5 support concerns.
In conclusion, the principal difficulties with RTMP streaming are:
Low bandwidth

HTTP compatibility

HTML5 support
Low Bandwidth
Due to RTMP streams' limited bandwidth, the video feed is frequently interrupted. The viewer experience is ruined by choppy RTMP feeds, which is frustrating.
HTTP Compatibility
HTTP connections are incompatible with RTMP. An HTTP connection is a network channel that accepts HTTP requests continuously rather than shutting down after each exchange. Connecting to specific servers, such as Adobe Flash, and using a third-party content delivery network to access streams when using RTMP is necessary.
HTML5 Support
The latest standard for video streams is HTML 5 players. In contrast, RTMP is only supported by obsolete flash players. Without HLS converters, RTMP cannot be played on HTML5 players.
There is no doubt that RTMP has impacted the world. It is a helpful tool for organizations like businesses, schools, and other academic institutions. It also impressively makes low-cost live streaming easy and convenient.
RTMP will continue to be crucial for broadcasting and streaming media even if other equally important or better alternatives emerge.